Well, finally I've made a decision on our tree. Yesterday we visited friends. After a cuppa I took a wander on up to her pile of gum tree branches to see if any of them had Christmas tree potential. Score! So today will be a Christmas tree decorating day. Fun, fun, fun. I'll keep you posted. But before I get into it I wanted to get a little bit of inspiration. This is what I found…
via
via
via
via
via And if you go to the lovely Tania's Ivy Nest you'll find these gorgeous treasures that she's popped on her lovely tree of sticks…
here
…and here. This bauble, Tania made out of a foam ball and strips of op shop bought fabric. Loving this idea!
via
via
via
via I'd like to have a go at these felt hearts. Surely they are simple enough?
via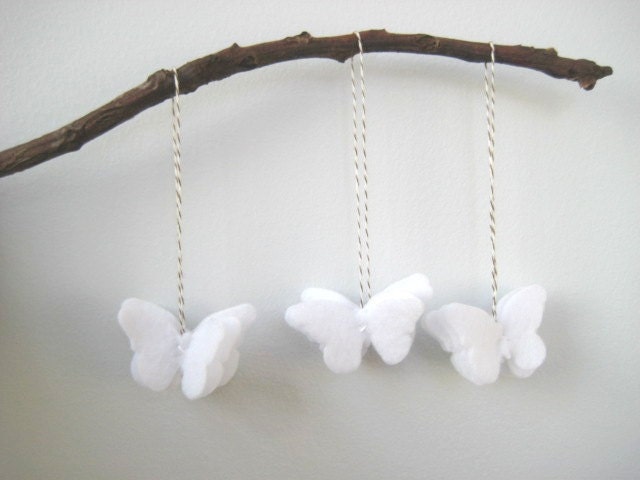 via
via
via
Love, love, love this look. That string is hard to get hold of in my neck of the woods. I traipsed all over two towns yesterday on the hunt for even a skerrick of this butcher's twine. But alas, I no findy.
via
via
Cool salt dough ornaments. You can learn how to make them here.
These are salt dough discs stamped with beautiful ink stamps. via
via
via
Here's a tutorial that shows you how to make these. They are basically just cut up doilies. Now even I could do that!
via
via
via
via I'm going to have a go at these cute stars today. So, I'm off to decorate the tree. I'll let you know how it all goes. Happy Sunday! Kim xx